Cable Management Magic! Clear Away the Clutter & Clear Your Mind!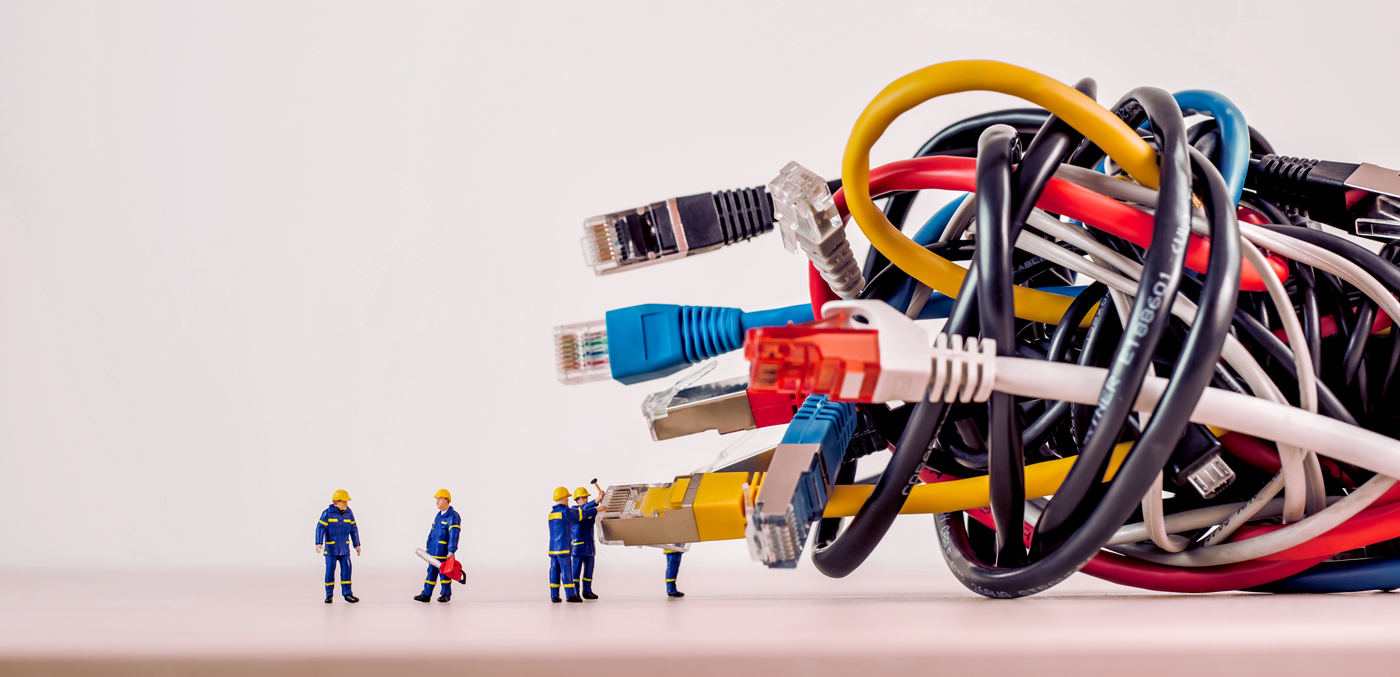 Organisation is key to a clean, functional and efficient workspace. Whether it be a small home office in the corner of your bedroom, or a 50 desk open plan space humming with hotdesking workers, a messy desk can lead to a messy midset. Despite the trend to create multitasking devices, modern offices today often include at least one monitor, a laptop, a printer, a desk phone, keyboard, mouse, phone charger and other peripheral devices requiring a multitude of cords and cables and leads and lines.
This tangled mess is not only unsightly, but a messy space can be distracting to your general workflow. So follow these useful tips to help get your workspace - as well as your workflow - in order.
Go minimal - go wireless!
Easily the best way to reduce a cable spaghetti farm is to kill the cables! Wireless accessories are easy to come by and generally well priced. They provide a friendly, clean fuss-free workspace with the same delivery speeds as their wired up counterparts.
Find the hidden power.
Is your power board laying under the desk like cable roadkill? Hook and loop tape is a great way to securely mount powerboards under the desk, and cable ties and wrap can bundle up and hideaway any extra leads. Many of the tape options that are removable, so if your requirements change, rip them off and start again.
Wrap. It. Up.
Self Closing Braided Cable Wrap can help to keep essential cables bound together and out of the way. It can easily be applied to electric harnesses, cables and wire bundles. The cut-to-fit versatility of the convenient roll-form makes it perfect for your cable management needs keeping you organised and tangle-free.
Undercover all the way.
Cable covers come in many colours and sizes and can help not only to camouflage unsightly running along the floor but more importantly, they eliminate trip hazards and protect cables from day to day foot traffic.
Label this and label that.
Want to make your life so much easier? Use 4Cabling Cabel Labels to label that. Being able to identify which cable belongs to what is all-powerful. Just label it, and all your incorrect disconnection cable worries will be gone.
Following these cable management tips for your home office or workspace and you will help reduce workspace clutter and confusion and increase your efficiency and productivity throughout the day. For more ideas on workplace cable management, check out our great range of solutions HERE.