Server Rack Requirements
Depending on your specific requirements, the size and type of server rack will differ significantly. A big factor in this decision not only includes the size of the installation but also, importantly, foreseeable growth factors. Whether it be a 1000 rack data centre build, a 10-20 rack commercial fit-out or even a home office upgrade, several needs must be met to ensure your installation meets the required specifications.
Strong, robust design to handle the required loads of equipment
Reinforced shelving is needed to handle heavy equipment safely, such as a UPS
Cable management provisions at sides, top, front and rear of the server rack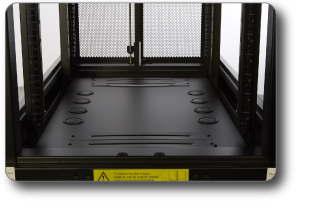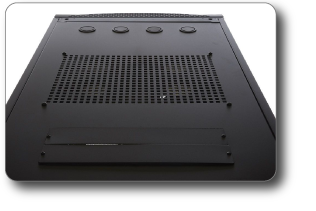 Cable entry holes at the top and bottom of server racks. Multiple entry holes required depending on installation
Cable management allowing free flow of air within the server rack to meet cooling requirements
Ease of cable access for moves, adds, and changes.
Ease of equipment access for removal, additions, or changes to equipment position.
Integrated power supplies within the frame of the server rack
Multiple positions within sliding rails for front and rear rail positioning
Lockable doors, top, and sides for security reasons
Clear doors for equipment identification without the need to access the server rack
Ventilated door provisions for airflow requirements
Air handling units placed at the bottom of the rack to bring in the cool air; and top of the rack to dispose of warm/hot air
Appropriate outdoor IP rating if required
Security door lock
Multi-point locking - if required
Installation of cable chimneys from top of the rack and through the ceiling to contain cables
Adjustable feet or castors for ease of positioning
Provision for appropriate cable and equipment labeling
3-year Warranty

4Cabling server racks and cabinets are made to Australian and international manufacturing standards. Our products are built tough to withstand many environments. From data server rooms, to home offices - even outdoors! Universally compatible with 19" rack-mountable, equipment such as servers, UPS systems, PDUs, switches, patch panels, fibre enclosures and cable management systems, will fit. We offer a comprehensive range of standard and premium racks and wall-mount cabinets in various sizes and configurations. Each rack can be customised to your particular needs with a variety of compatible accessories from fan kits to cable management rails. If you need, we can produce individual solutions, designed according to your specific requirements.
Just ask! We are here to help.