What is audio-visual cabling, and how does it aid your set-up in the office or at home? Often referred to as 'AV cabling', it's in the name really: this cabling transfers sound and visual data between your connected devices. Here are a few examples of AV cables available at 4Cabling:
RCA and stereo cables
RCA cables have been commonplace within the home for decades, so you'll probably recognise the familiar bundle of three wires with the red, white and yellow terminal connectors. They are often used to connect devices like VCRs (oh, hello timewarp), DVD players and some games consoles to the TV. The cables with the red and white terminal connectors carry the audio data, while the yellow carries the visual data. Sometimes, these are instead bundled with a black stereo cable, rather than the yellow, ideal for transmitting audio data to an amplifying device.

At 4Cabling, we offer a range of lengths, from 1.8 metres to 10 metres, as well as adaptors for RCA cables, and jack splitters and extension cables for stereo cables.

DVI cables
'DVI' stands for 'Digital Visual Interface'; these cables transmit visual data to a display device, like a monitor. We offer a range of DVI cables, covering over 95% of all DVI to DVI hook-up requirements and completely 'digital ready'. The cables are double shielded to ensure compliance with FCC requirements, and boast gold plated copper contacts. We also stock a range of port adaptors and connectors.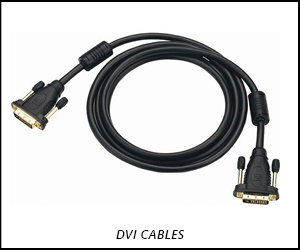 Arguably more advanced than the analogue transmitter RCA cables, HDMI® cables offer unrivalled picture and sound quality in the digital age. Premium high-speed HDMI cables support 4K video resolution up to 60Hz, so you can achieve a practically crystal-clear picture on the screen, while ultra high-speed HDMI cables achieve this quality at a higher refresh rate of up to 120Hz. The higher the refresh rate, the less buffering. Both our Premium and Ultra range of cables include an ethernet channel, so you can connect to the internet, once you connect to an ethernet source, without the need for a separate CAT5E, CAT6 or CAT6A ethernet cable (please note, only devices that feature HDMI Ethernet Channel functionality are compatible; check your devices' specification as the whether they support this function).
The HDMI® range at 4Cabling spans 0.5 metres to a whopping 50 metres, so you have a plethora of options to best match your set-up.

Connect your laptop (or other small devices) to the big screen in a meeting room, or the like, using a DisplayPort cable. Essential for office presentations, they are backwards compatible and support most multi-stream and display resolutions (check specifications). Choose between a selection of lengths and connections (such as DisplayPort to Mini DisplayPort or DVI-D), and adaptors too.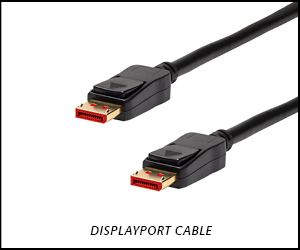 Please note, be sure to check your devices for supporting connections and functionalities, before purchasing AV cables.
4Cabling. Quality products for a connected world.